Alternatives for Research and Development Foundation
801 Old York Rd Ste 316
Jenkintown, PA 19046
Phone: 215-887-8076
Mission
Animal testing is crude & cruel! We award grants with the greatest potential to reduce & replace archaic animal research methods. Join us in supporting safe research, accurate testing & humane science without subjecting innocent animals to experiments.
Real Life Story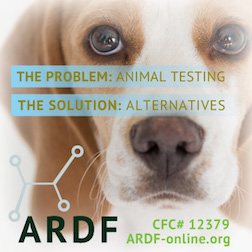 The Alternatives Research & Development Foundation (ARDF) supports the development, validation, and adoption of non-animal methods in biomedical research, product testing, and education.

The fundamental principle of ARDF is that the primary issue in animal experimentation is not the researchers nor the questions being asked, but rather the tools chosen to answer those questions. Focused on methods and models used in research, ARDF works constructively with partners in the science community to bring alternatives technology and compassion to modern laboratories and classrooms.

ARDF works to promote alternatives through the sponsorship of scientific meetings across the globe, participation in regulatory and industry meetings, and providing free consultations with media, scientists, and government officials.

The ARDF Grant Program was established to fund research projects that develop alternative investigation methodologies and/or utilize an alternative research approach to advance science. Since 1993, over $3 million in grants have been awarded to fund dozens of significant projects, including:
* Interactive, computer simulations for pharmacology and physiology
* 3-D computer-assisted programs to teach surgical techniques
* Cell culture methods to detect a chemical's ability to cause birth defects
* Human cell-based assays to identify anti-cancer drugs
* Development of 3-D bioengineered human skin for burn studies
* In vitro efficacy tests for AIDS vaccines

Thank you for your support!