Angel Canines for Wounded Warriors
(aka) Mercy Medical Angels

4620 Haygood Road
Suite 1
Virginia Beach, VA 23455
Phone: 757-644-5791
Mission
Whether suffering from PTSD, mobility disorders, blindness, hearing loss, amputations, or an illness or disease that makes it difficult to manage day-to-day living, U.S. veterans can count on us to provide free air transportation to obtain a service dog
Real Life Story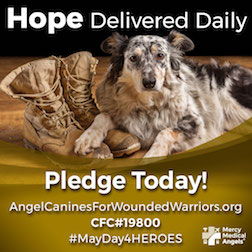 Angel Canines for Wounded Warriors Provides Lifetime Gift

Amanda Frey is an Air Force veteran. When she received a traumatic brain injury, or TBI, she had to return to civilian life. The TBI affected her mobility and balance, to the point where her husband was afraid to leave her in the house for even a few hours.

Heather Fall is a veteran who lives in Texas. Fall works as a service dog trainer for a non-profit, Shepherds for Lost Sheep. She received her first service dog in 2008. Having a service dog helped her regain independence. Her goal is to help other veterans experience the same.

Frey heard about Angel Canines for Wounded Warriors through Shepherds for Lost Sheep. Frey's husband is active-duty, so traveling to meet a service dog and trainer was out of the question. Angel Airlines for Veterans was able to bring Fall on a round-trip flight. Orion, who would become Frey's service dog, accompanied his trainer on the flight.

Air transportation and the related costs are often obstacles for veterans. Angel Canines for Wounded Warriors flies high above that obstacle by providing free flights to those who need it

Orion has helped Frey regain independence. Frey's husband is more comfortable leaving her home alone. They look forward to traveling.

Thanks to Orion, Frey can recover from falls without external help and be more mobile throughout the day. Best of all, she's never truly alone.

"I'm lucky enough to have a constant companion watching my back."