Animals For Adoption
(aka) Rondout Valley Animals for Adoption Inc

4628 Route 209
Accord, NY 12404
Phone: 845-687-7619
Mission
Dogs and people working together: saving and improving the lives of neglected-abandoned animals nationwide; teaching at-risk children to train shelter dogs so both flourish.
Real Life Story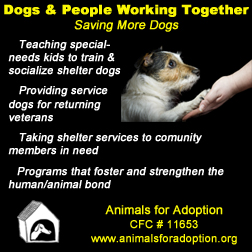 Jerry

Our pioneering new project benefits both our shelter dogs and special-needs children. Partnering with Green Chimneys, a U.S. leader in special education, our dogs calm the children, helping them learn. The kids help train the dogs, making them more adoptable - -a true Win-Win.

Here's how it works: Our dogs go to Green Chimneys for 6 weeks, visiting classes, dorms and social work sessions. Our trainers show the kids how to teach dogs obedience and other skills. The dogs give the kids complete acceptance and the kids respond with kindness. The kids and dogs blossom.

Jerry is a recent program "K9 graduate". He was abandoned and arrived at our shelter loosing hair and constantly scratching. Still, he was incredibly friendly with people. After many skin scrapings, we uncovered Jerry's allergies.  He was given medication and a special diet.  But he arrived at Green Chimneys completely unsettled. He chased every leaf on the ground and had no manners.

After 6 weeks of student training and socialization Jerry learned his commands and how to settle down, critical traits for gaining a forever home. Jerry's courage, sociability and eagerness to learn appealed to the head of a group providing service dogs to veterans. Jerry is now training as a service dog for a returning vet, where he is doing great.

Kids see a dog with slim chances adopted as a beloved new family member. It gives them a sense of accomplishment and hope for their own future. Soon a new group of dogs begins the process, as we help more shelter dogs and special-needs kids. It's a new model for sheltering dogs and educating special-needs kids nationwide. With your help it will continue to grow.