Mission
Partnering expertly raised & trained guide dogs with blind / visually impaired people to increase mobility, confidence & independence. Personalized training, extensive post-graduation & veterinary support for a lifetime provided free of charge.
Success Story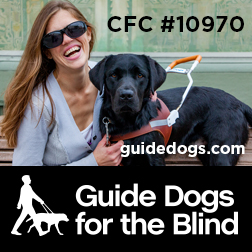 It's not every day that you meet a professional artist with vision impairment. Paul Castle may be limited in sight, but that does not keep him from living a vibrant and fulfilling life. In fact, he is known to his 100,000+ Instagram followers as a talented inspiration and accomplished artist. Using a cane to navigate his college campus, Paul struggled to accept the social stigma that came with it. He also found it difficult to move comfortably with a cane; often bumping into objects or even getting stuck on obstacles in his path. Paul was paired with guide dog Maple, a yellow Labrador Retriever. "I can do so many things now that I couldn't do before, even with my cane. I mentioned that there was some stigma around my cane and being out in public, and now I just feel so proud to be with this beautiful dog." Always prepared to step into action and assist Paul when needed, Maple serves as a prime example of the sharp skills required to fill service roles and the positive impact that guide dogs can have not only on their owner's depth perception and sight, but also their emotional and mental health. "To be able to just freely leave my home, and go anywhere with confidence; without the fear, intimidation, and anxiety I used to feel, despite having less vision now than I ever have in my whole life… I feel like I can do more now than I have ever been able to do."
P.O. Box 151200
San Rafael , CA 94915-1200
Category:
Service Dogs
Act Now
Support the freedom and safety of a guide dog partnership.
Help create a guide dog partnership! With exceptional client services and a robust network of instructors, puppy raisers, donors, and volunteers, GDB prepares highly qualified guide dogs to serve and empower individuals who are blind or have low vision from throughout the United States and Canada. GDB services are free of charge.
Visit our site at guidedogs.com to learn more and donate!