Mission
Puppy mills, dog meat, vivisection / dissection, fur, illegal animal-fighting; Emergency animal aid in Ukraine. Help us end animal abuse! Doing ground breaking undercover investigations to expose animal abusers and promoting cruelty-free lifestyles.
Success Story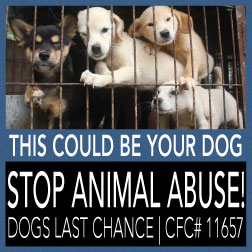 Each year, a million dogs are brutally slaughtered in S. Korea for meat. Nari is a beautiful hound mix that once endured a life filled with pain and terror on a dog meat farm.

Nari is one of the lucky ones. She is now safe and enjoying the comfort of a loving family, but millions of dogs just like her remain confined in cages on S. Korean dog meat farms awaiting their barbaric slaughter.

Terrified and distressed, dogs like Nari struggle desperately to get away as they are beaten, hanged, electrocuted, burned, or boiled alive. The dogs used for meat never get to feel grass under their feet or the love and joy that Nari is finally experiencing.

DOGS LAST CHANCE is working tirelessly to end the dog meat trade in S. Korea and fighting for the rights of innocent animals like Nari.

Your support helps to create meaningful change for animals through investigations, education, and legislative efforts.
8033 Sunset Blvd Suite 835
Los Angeles , CA 90046
Category:
End Animal Abuse
Act Now
Help the Animals!
Help put an end to animal cruelty and exploitation by making compassionate life style choices. You have the power to spread the word and help animals by your individual actions.
Share your efforts to help animals on social media!